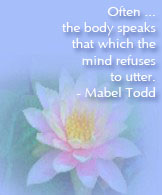 Our Philosophy
The power that has created the human body is the power that heals it.
Therapies and treatments help remove the blocks to the body's own healing wisdom, and supply the needed energy for repair. While offering treatment to support your body in healing, I am also dedicated to self-transformation in my personal life, adhering to the adage, "Physician heal thyself."
I strive to offer holistic health care which helps patients leave the office feeling better than when they came in and fosters long-term well-being. Because I have fully recovered from two serious auto accidents (the second one included fracturing my back), I understand the healing process both as the patient and as the doctor. Care is provided with compassion and without judgment.